Here I'd like to open a space to collect your ideas what improvements could be carefully integrated into BLISS launcher in order to make it a sleek standard brwoswer for /e/.
I personally like Bliss a lot - as it is a simple and easy to understand front end for an operation system and I believe it is suitable for /e/'s user target group. But I believe as well the Bliss still needs some fine adjustment. Therefore I opened this threat.
Please note: This is not intended to be the place for Bliss bashing. I am a regular reader of /e/'s telegram group. There's so much derogatory remarks towards Bliss. Please note, this is not the right place to drop all those negative and aggressive emotions (If you do not like Bliss, just install an alternative launcher, there are various alternatives around.
And yes, Bliss does not have an app drawer. If you need it just look out for Lawnchair, Librechair, Trebuchet et al.
First of all, I'd like to share my thoughts with you:
What I like about Bliss
It is true, Bliss doesn't offer much more than essential functionality - but that's what I like about it.
it has a distinctive appearance (different from most other Android launcher flavours. Yes, I agree, it has a user experience close to iOS);
it has a dedicated widget page, easy to reach and easy to add/use further widgets;
no way to get lost in additional (unessential) functionality.
What I do not like so much about Bliss
(I'd love to see some improvement)
Language settings. For now, Bliss is only in English language, it would be good if it adapts to the devices' language settings;
Moving icons around. For the moment I feel it is a bit difficult to move icons from one home page to another. Furthermore, it is impossible to move icons within folders. Would be nice to make that possible.
Additional Bliss settings. Other people already requested a Bliss settings menu.

Feature to lock icon position on home screens. It happened a few times to me that I moved icons by mistake. especially for less experienced users it would be good to have an option to make icons unmovable - not by default but upon request.
Easily hide Weather and App Suggestions widgets.

Search Widget. The search function is a bit unexpected what I would naturally expect here is a tool to search apps on my device as well as files and photos. If this remains a like to the internet it should be renamed at least 'Internet Search' instead of 'Search' and refer use the browser that is set as the systems' standard browser.
Widget layout. At least for all standard widget I'd like to see a coherent layout/appearance
Edit Widget page. There are sometimes several widgets with the same name and different functionality. Ideally, I'd like to understand differences before installing


A last thing: Not important at all, but I'd love that swiping from one homepage to another goes a speedier.
In case settings for Bliss are going to be introduced I'd like to see it ideally in the /e/ settings or via the edit button on the widget page (see pics below).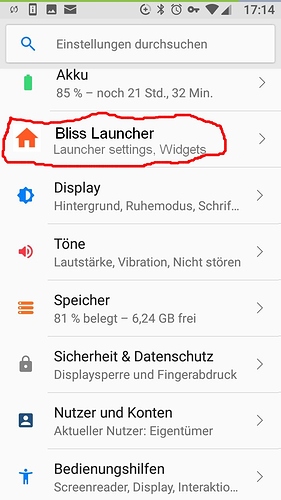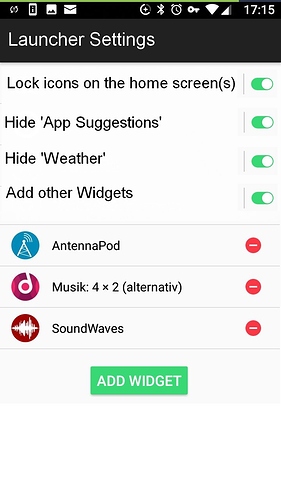 Any other suggestions from your side?