Thanks for your reply but when will the stable build be available for the S9?
The v0.15 should go out this week to dev users. After a week of the dev release the stable builds roll out.
GS290 still not working with easy installer correct
got a new one from the store with Android 10
as with my first one the easy installer didn't work I tried right away a manual install
but got the message like rbauduin
$ ./fastboot flash --disable-verity --disable-verification boot ~/Downloads/boot.img
Rewriting vbmeta struct at offset: 9797632
Sending 'boot' (32768 KB)                          OKAY [  1.547s]
Writing 'boot'                                     FAILED (remote: 'not allowed in locked state')

then tried easy installer, didn't work either, but after that, I could do a manual install,
bad thing back in the bootloop with "Orange State…" again…


If I go to recovery I get this: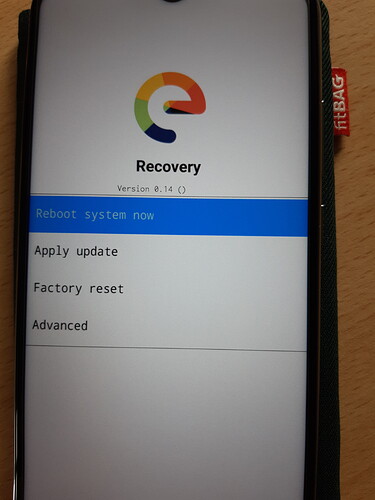 !
too bad I cant use it
Please can you explain why you cannot select "apply update" within the /e/ recovery which appears to be installed.
Re use of Easy Installer, please note the OP [these are not actually the words of Manoj]
Please let us then help you in a new post under Devices >> Gigaset.
Thank you for reporting this

I tried to apply update (sideload) but that didn't work, because of wrong file
flashed boot.img again
flashed the image I used last time, now this phone's running too
Thanks


Now; are we talking about two different devices?
I changed the advice at the top of the page, Gigaset GS290, to a

Warning, Gigaset GS290: testing by experts only at this time please. Thank you
Combined all these thread here
yes the first one came with Android 9, so I had to update to 10 before putting e on it
the second had already Android 10 on it, no updates avaiable.
I am wondering, why, what didn't work?

Is this hint true?
"Potential users/readers, Easy Installer will only select a stable version of /e/. Generally that will be Oreo at present."
That's for the Samsungs, right? FP3 is definitely Q and I doubt the GS290 is on Oreo.
I have no Easy Installer phone. Thanks for the information.

Gigaset GS290 - having seen reports that Easy Installer delivers Android version Q, and having linked on the OP a HOWTO, which deals with the problem that Windows might fail to load necessary drivers, I have removed the "experienced testers only warning".
Credit, @SuzieQ in another post, when using Easy Installer in Windows, have Windows Device Manager open in another window. Should a "

driver issue" arise you will be warned in good time.
Hi !
you will be able to remove me from this list.
I will have to re-install fairphone android 10 OS.
No MMS without mobile data
and the bug has been around since 2019 … and still not resolved.
I'm starting to have doubts …
J'espère que vous continuerez avec / e /

Retourner sous Google ?
Je boycotte déjà TOTAL depuis plus 30 ans… Je continuerez l'aventure /e/ tant que je serais satisfait. Avec l'age on devient prudent

It worked for me on my FP3+. I have added my name to the list.
It was just so simple and easy

Thank you for your answer. So is the 10 stable build available for the S9 with the easy installer now?
The stable builds for v0.15 were released yesterday . Will check if it has gone out for the S9 and update