yes, because it's not using the play service modification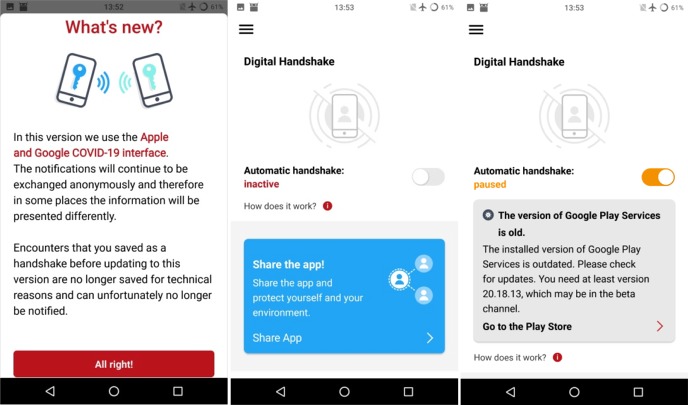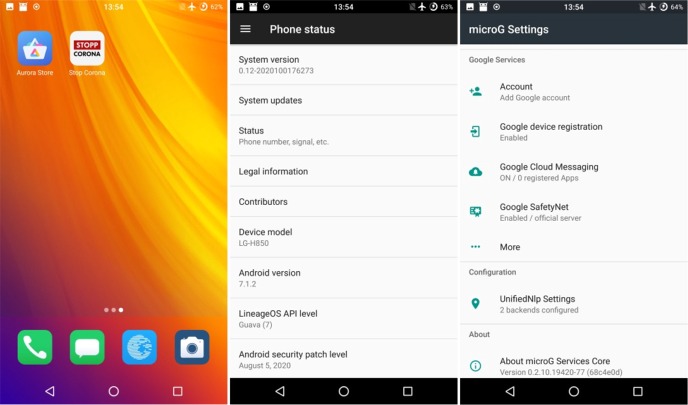 Oh, and why does the Austrian 'Stopp Corona' app not work on a /e/ OS 0.12-nougart with microG Services Core version 0.2.10.19420 ???
not sure, because I don't use it.
Hi @LaurentG, my comment was not a criticism of your unofficial 9-pie build, but just a hint that my microG 'pachting' did not work, although it does work on the official /e/ OS e-12-oreo.
Well, now I've made another attempt which was successful.
First of all: I noticed on your build that the function 'Erease all data (factory reset)' does not work, i.e. the tap on the button 'Erase everything' shows no reaction - the function is not executed.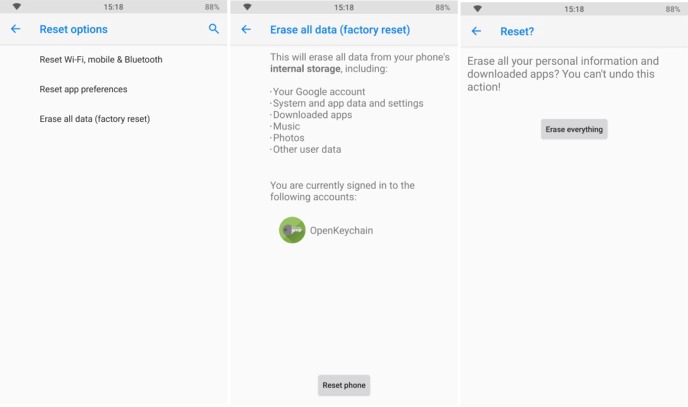 The starting point was a new fresh installation of your /e/ OS e-0.12-p-20201001-UNOFFICIAL-herolte with the old version microG Services Core version 0.2.10.19420
.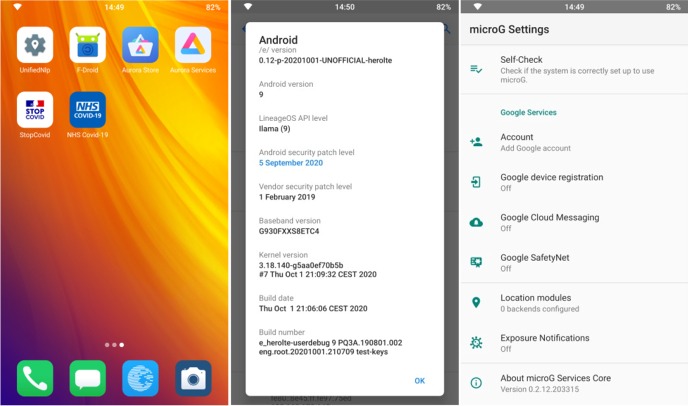 .
I was able to upgrade to the current version microG Services Core version 0.2.12.203315 by manually. So now 'StopCovid France' also works on a /e/ OS 9-Pie ROM.
Again, unfortunately, I can't do anything with "bugs" of this version… What I will try to do is to make sure that this is a "general" bug (with version 0.12 of /e/) and not only with MY version of /e/
As far as I know, that's on all eOS versions not working and s kniwn issue since 2 years.
We always telling to use the TWRP factory reset.
The version comes from e-manifest. The builder has no access to change it.
Only power builder are able to change it.
Again, my motivation to give you feedback was the recognition of your work.
The official ROM e-0.12-o-2020093076269-dev-herolte can be used in practice Galaxy S7 also runs excellently with LOS 17.1 including microG Services Core v0.2.12.20331 and receives monthly updates. From my point of view everything is okay.
But it's not ungoogled. And that's why we are here and not at LOS forum

/e/ OS is so dependent on LineageOS that LOS is always and everywhere an item.
---
Can we say that LOS is the alpha and /e/OS is the beta version for ungogoled android ?
No. /e/ OS is just a LineageOS fork with some interesting extras.
If you know the history of CyanogenMod you know the development and importance of LineageOS. LineageOS is a defining feature of a custom ROM scene.
It is not without reason that you can find credits (https://github.com/LineageOS) for LineageOS on websites of other custom ROM developers.
Another example:
This documentation "" is a derivative of "install LineageOS on herolte" by The LineageOS Project, used under CC BY.
LOS is googled OS and eOS is ungoolgled. That's the difference. And since some days eOS. And LOS is more stable than eOS (see update)
First: Thank you very much for the build! I use it as daily driver, and it works fine.
I only have one error sometimes. It happens one or two times a week. When I try to start an app - it changes which one it is - the app needs 10-30 seconds to start - but stock at start. Then nothing happens.
Only an restart is a solution.
Does anyone has a same error? Or is it only my problem?
Thanks.
Tnaks for the Rom Builder! Great that you did ist.
Will there be a new built in the next time? Or is this unofficial Pie eol?
Hi,
I'm really sorry, I continue to build this ROM, I had some build issues but now it seems to ne good.
I will upload the next build

This are really good news. Thank you very much. Greetings. Will wait patiently.
Here is the update :

I install it on my phone, everything seems to be working as expected… Security patch is on 5th December
Enjoy

Thaaaaank you very much. I use it now a bit longer than 24 hours and everything works as it should.
How did you flash it?
I am on the previous version.
Should I dirty flash it or should I wipe anything before?
Thanks in advance and best regards from Munich