v0.18 testing
Complete issue list

This is the list of issues pending / closed that will be a part of v0.18…
Issues to be reviewed further and some which are not achievable in the current cycle will be moved to subsequent milestones
Dark mode

v0.18 Release for testing may be delayed due to the large number of issues going in. ETA for testing first week of August
Dev release ETA mid Aug
Official support list
We get a lot of requests for Devices to be added.As of today the list of requests are at 1000+ devices ! Looking for more Device Maintainers to volunteer. LOS and XDA have a massive group of ROM Maintainers . Would be good to have a similar group working on the community builds and as Maintainers.

Hope to add to the list these devices to the list once we get the builds working.

3 Tablets
Samsung Galaxy Note 10.1 (p4noterf)
Samsung Galaxy Note 10.1 (p4notewifi)
Samsung Galaxy Note 10.1 (p4notelte)
1 phone Samsung J5 (j5y17lte)

Working with the existing ROM Maintainers to get them to participate more in the Build process. This would require a certain level of access to the build infra which will allow them to debug and fix issues in their devices. Check the requirements from ROM Maintainers
Magic Earth replacement
As you may be aware the Magic Earth app is not Open source. Our search for a replacement continues. We would prefer an application which does not ask users to constantly download the latest updated maps. On mobile data packs these downloads can be quite costly. Some thing like the seamless support Google Maps provides but entirely in the FOSS world would be what we are are looking for. We are open to suggestions.
Gestural recent views coming to Bliss
As part of the improvement to the Bliss Launcher…we are testing and improving a gestural recent view on Bliss. There a re still bugs to fix and no ETA as always

Filter for tablet
Based on user requests …a filter to select tablets has been added to the Supported devices page …Filter on the Device type to find the details.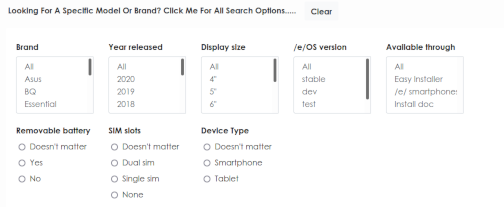 > This thread will be updated through the week

Regain your privacy! Adopt /e/ the unGoogled mobile OS and online services