GSI
The official /e/ GSI has been released. Get the details here
I would recommend users interesting in flashing the GSI to first read the Understand all about the GSI guide especially the section on what a GSI cannot do.
The install guide is a bit cryptic at the moment. This was on purpose to keep the GSI out of the reach of users who are not experts in installing and flashing ROM's

Summary : If you have a device which is
Not supported by /e/ as of today
Treble project compatible device
then try out the GSI and share your feedback.
To understand what these terms means read the guide given above.
OTA OS Upgrade
Device we are testing on S9 / S9+ Will add more devices later
Sideload option tested and found to work perfectly. This is an alternate method for cases where the OTA does not work due to network issues.
One round of OTA testing completed successfully yesterday.
OTA testing from my side should happen today.
This is how the screen will look when the OS OTA download appears…
In this case I am on Oreo and the build I see is a Q build. Check the size of the build it is 1.6 Gb as the firmware is also included in this build. Testing in progress…will update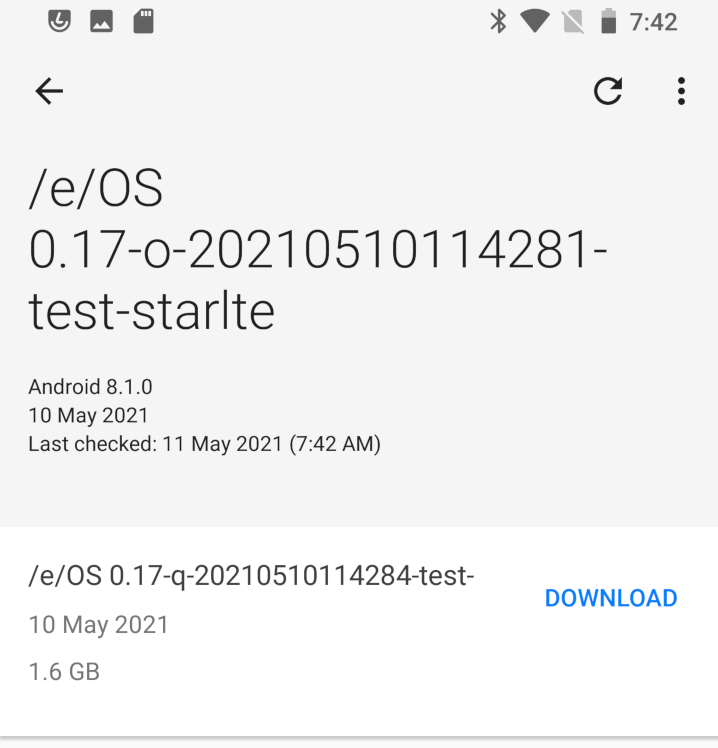 12 May Update The OTA OS upgrade testing from /e/ Oreo to /e/ Q on the S9 was successful. Will share details of the steps in the documentation we will release for this. As it was a sideload there was no data loss. To be honest it was a test device and all I had were the default apps with a couple of ID's . All the same the data as retained across the upgrade.
Work will start on adapting for more devices soon.
Any testers available We would like to have a few users willing to test the S9 upgrade. Anyone interested ? You should have the /e/ OS oreo build on your S9 and ideally it should be a test device. Let me know in case you would like to help test the OTA upgrade for the S9.
Check out this post with more details
Android R
We are starting the customization of the source code for Android R soon. No ETA's as yet but it took about 2-3 months for the Q customization which gives a rough idea about the time lines…
New device additions
Starting from week 21 we will be adding a set of devices to the supported list. I will share the device names as we reach the ETA's . The best part in these devices is we have dedicated ROM Maintainers for them.
Further updates will be added during the week
Regain your privacy! Adopt /e/ the unGoogled mobile OS and online services