It's ok with my phone

First of all: I am of the same opinion as @Micha.K
When @GaelDuval announced the Galaxy A5 (2017) with /e/ OS in September 2018, there was already StockROM Android 8.0.0 for the A5 2017, although there was still a security update of StockROM Android 7.0 at the beginning of April 2018.
I assume that the /e/ OS development for Samsung Galaxy A5 (2017) "a5y17lte" was based on Android 6.0.1 and 7.0 and therefore the "bootloader and modem problem" didn't come into play since the launch of 8-Oero. Meanwhile the problem is also known from other devices.
God knows I'm a big supporter of /e/ but here the /e/OS Build Team (Maintainers) should help as soon as possible to avoid image losses.
Thanks to @Unknown we know that /e/ OS (8-Oero ~ 9-Pie) can be installed and operated without pull-ups. The images of LineageOS and LineageOS-for-microG also prove it.
With us in good old germany, no manufacturer in Germany sells as many smartphones as Samsung (2nd place: Apple) and is therefore a potential contender for devices with /e/ OS. The high sales figures owe the South Koreans above all to the middle class devices of the Galaxy A series. In the summer months of 2019, Samsung achieved a market share of more than 40 percent (Statistics: Gesellschaft für Konsumforschung (GfK)).
Switching from StockROM Android to /e/ OS requires above all uncomplicated builds with 9-pie (and 10-Q in the foreseeable future) and a well-functioning /e/ ecosystem service.
On a successful /e/ future

My Samsung Galaxy A5 (2017) (a5y17lte) came with the latest StockROM 8.0.0 Oero firmware version including the latest bootloader & modem firmware and with security patch date is 2019-11-01.
After overcoming the Samsung obstacle of the encrypted partition /data I was able to install @Unknown Build. The following pictures show the status:
But - after switching off the A5 2017 completely by using the power button the phone restarts by itself after a few seconds. It is a boot loop without end.
I have tried several tips from this forum and external forums to make this error harmless. Unfortunately without success.
---
Next, I installed an unofficial build of Resurrection Remix OREO 8.1 for Galaxy A5 2017. After switching off: It is a boot loop without end - identical to the first mentioned unofficial e-0.7-o-build-Unkown.
---
The last test installation for the time being is the 9-pie LOS 16.0 image of LineageOS-for-microG Build from 16.12.2019.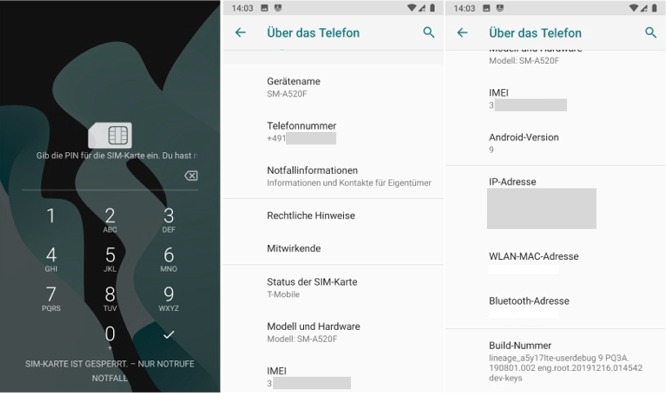 Here the above mentioned error of automatic power on does not occur.
I agree with the opinion of @Manoj's "Time to get rid of nougat builds and officially upgrade to the next level…" which in practice means leaving 8-Oero behind and going all the way to 9-Pie.
Also @GaelDuval said some time ago "We have added support for Android Pie in 2019, and will add support for Android Q in 2020."
Yes, he's absolutely right!